Curator: Daniel Garza Usabiaga Since the beginning of 1990s,  Eduardo Abaroa has develo…
Share on

Facebook

Share on

Twitter

 
July 25, 2017
Museo Amparo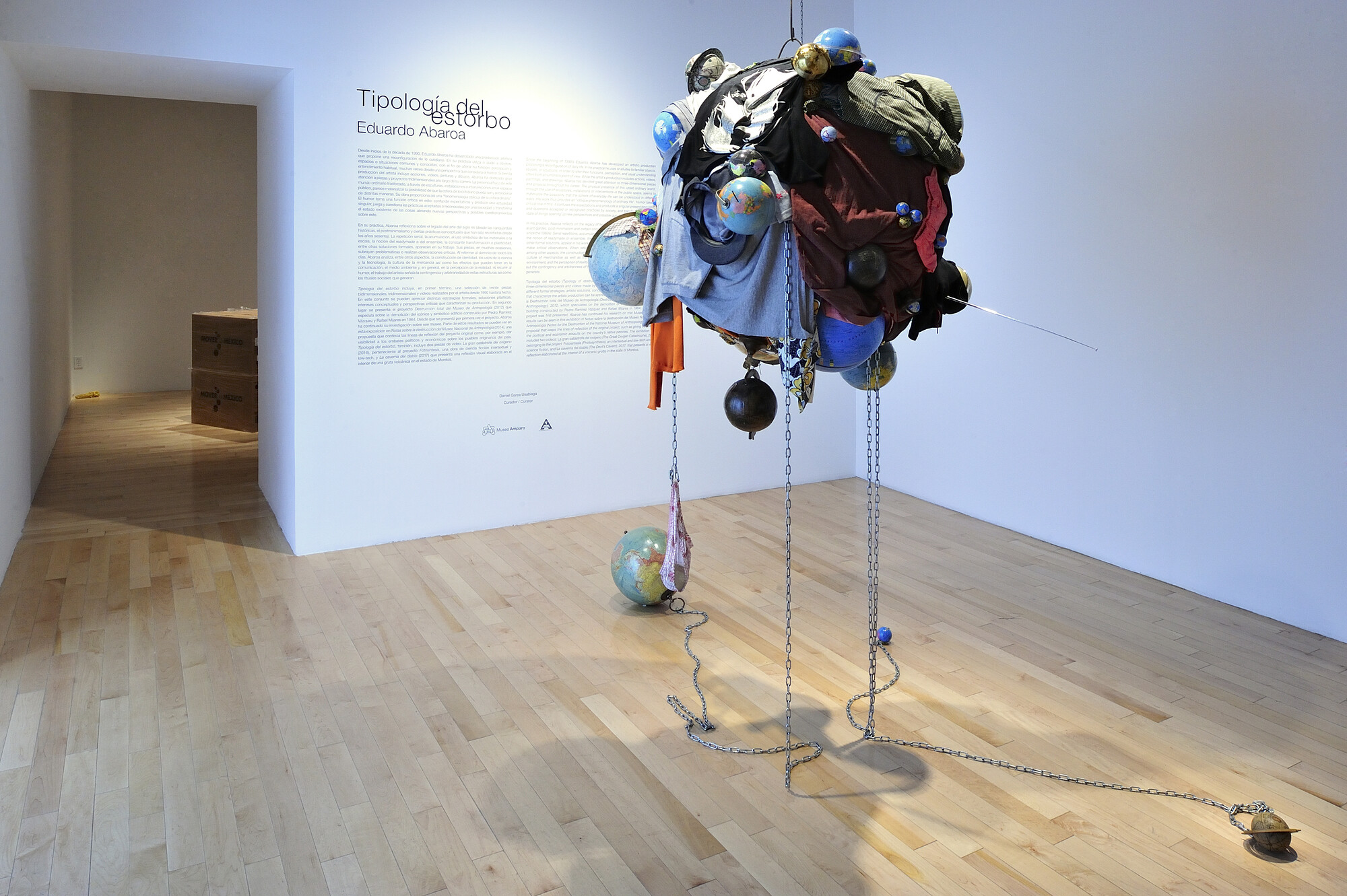 Eduardo Abaroa
Typology of obstruction
June 10–October 2, 2017

Museo Amparo
2 Sur 708
Centro Histórico
72000 Puebla, Pue.
México
Hours: Wednesday–Monday 10am–6pm,
Saturday 10am–9pm

T +52 222 229 3850
difusion@museoamparo.com

www.museoamparo.com
Facebook / Twitter / Instagram / YouTube

Curator: Daniel Garza Usabiaga

Since the beginning of 1990s, Eduardo Abaroa has developed an artistic production proposing a reconfiguration of daily life. In his practice he uses or alludes to familiar objects, spaces, or situations, in order to alter their functions, perception, and usual understanding often from a humoristic point of view. While the artist's production includes actions, videos, paintings, and drawings, Abaroa has devoted great attention to three-dimensional pieces and projects throughout his career. The physical presence of this upset ordinary world, through the use of sculptures, installations or interventions in the public space, seems to materialize the possibility that the sphere of everyday life can be understood in different ways. His work thus provides an "oblique phenomenology of ordinary life." Humor takes a critical role in this: it confuses the expectations and produces a singular present time,
plays and questions accepted or recognized practices by society, and transforms the existing state of things opening up new perspectives and possible questionings about it.

In his practice, Abaroa reflects on the legacy of twentieth-century art (from the historical avant-gardes, post-minimalism and certain conceptual practices that have been revisited since the 1960s). Serial repetitions, accumulations, the symbolic use of materials or scales, the notion of readymade or ensemble, the constant transformation or plasticity, among other formal solutions, appear in his work. Occassionaly, his pieces underline situations or make critical observations. When referring to the everyday domain, Abaroa analyzes, among other aspects, the construction of identity, the uses of science and technology, the culture of merchandise as well as the effects they can have on communication, the environment, and the perception of reality. When recurring to humor, the artist's work points out the contingency and arbitrariness of these structures as well as the social rituals they generate.

Tipología del estorbo (Typology of obstruction) includes a selection of 20 two and three-dimensional pieces and videos made by the artist from 1990 to date. In this group, different formal strategies, artistic solutions, conceptual interests, and critical perspectives that characterize the artists production can be appreciated. The second project presented is Destrucción total del Museo de Antropología (Destruction of the National Museum of Anthropology), 2012, which speculates on the demolition of the iconic and symbolic building constructed by Pedro Ramírez Vázquez and Rafael Mijares in 1964. Since the project was first presented, Abaroa has continued his research on that Museum. Some results can be seen in this exhibition in Notas sobre la destrucción del Museo Nacional de Antropología (Notes for the Destruction of the National Museum of Anthropology), 2014, a proposal that keeps the lines of
reflection of the original project, such as giving visibility to the political and economic assaults on the country's native peoples. The exhibition also includes two videos: La gran catástrofe del oxígeno (The Great Oxygen Catastrophe), 2016, belonging to the project Fotosíntesis (Photosynthesis), an intertextual and low-tech work of science fiction, and La caverna del diablo (The Devil's Cavern), 2017, that presents a visual reflection elaborated at the interior of a volcanic grotto in the state of Morelos.

The exhibition will be open until October 2 at Museo Amparo.

Eduardo Abaroa (Mexico City, 1968)
He studied Arts at the Escuela Nacional de Artes Plásticas, UNAM in 1992, and a Master's Degree in Fine Arts at the California Institute of Arts in 2001. He has participated in residencies such as Flora in Bogotá (2014) and the Corcoran Gallery, In Washington DC (2012). In 2011 he served as director of the IX International Symposium of Contemporary Art in Mexico City, SITAC. Abaroa has contributed with several texts for catalogs of crucial artists in the Mexican context, as well as columns and reviews for different publications and magazines. He has received different recognitions among which are the Premio de Escultura, Sociedad de Valores de Arte Mexicano SIVAM, in 2006 and 2005; The scholarship of the Sistema Nacional de Creadores FONCA, in 2004; and the Fulbright Scholarship, also in 2004.

Eduardo Abaroa lives and works in Mexico City.